Developed for the WM 6.5 platform, Stomp Mobile, is the unofficial Windows Mobile 6.5 application that lets you read local Singapore news from the Straits Times Online Mobile Print (STOMP) website. Being Singapore's citizen-journalism website with user generated material, new contents are constantly posted so you will never get bored again.
Specially designed for the small screen of your mobile phones, the Stomp Mobile apps brings to you articles and news from various categories. Browse through the uploaded pictures with ease, or read all the comments posted.
A must have app, which keeps you updated on what's going on around Singapore.
To change the color theme
edit the "qvga-panel-spacer-color.jpg" (QVGA) or the "vga-panel-spacer-color.jpg" (VGA) image file which is installed in the Stomp folder
Change the color of the image using any image editor, to the color theme you want. Bottom pixel of the image will be the transparent color
copy this image file to the Stomp Mobile installation folder
Alternatively, download the example below, rename it to "qvga-panel-spacer-color.jpg" for QVGA or "vga-panel-spacer-color.jpg" for VGA devices and copy to your device

Version & Settings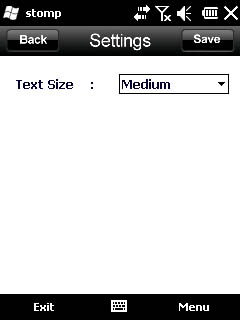 Summary
News
Comments & Color Themes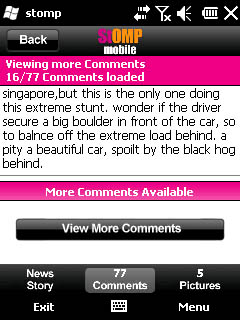 Pictures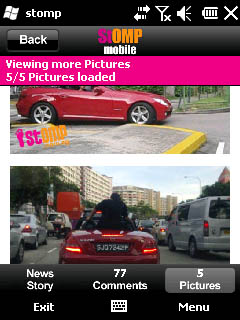 Version 1.2 (17th February 2011)
fixed errors due to changes in the stomp.com.sg website
Version 1.1 (30th July 2010)
Minor UI changes
Display icon of how many pictures/comments are available
Bug fixes
Optimised memory usage
Version 1.0 (15th June 2010)
Minor UI changes
Display how many pictures/comments in total and how many has been loaded
Fixed more bugs which caused the app to crash
Beta 0.8 (1st June 2010)
Changeable font size
View comments function enabled
Changing of color theme by editing the jpg file in the installed folder
Application icon changed
Fixed few bugs which caused the app to crash
Beta 0.5 (23rd Apr 2010)