Ported from the WM 6.5 version, Stomp Mobile WP7, is the unofficial Windows Phone 7 application that lets you read local Singapore news from the Straits Times Online Mobile Print (STOMP) website. Being Singapore's citizen-journalism website with user generated material, new contents are constantly posted so you will never get bored again.
Specially designed for the small screen of your mobile phones, the Stomp Mobile apps brings to you articles and news from various categories. Browse through the uploaded pictures with ease, or read all the comments posted. Pin your favourite articles to start, or share them on facebook easily with just a few clicks.
A must have app, which keeps you updated on what's going on around Singapore.

Home
Articles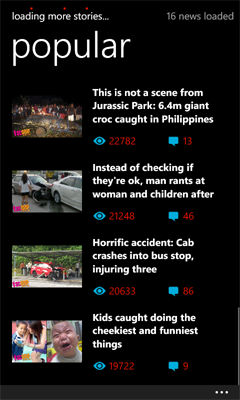 Pictures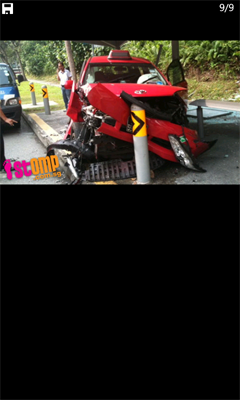 Comments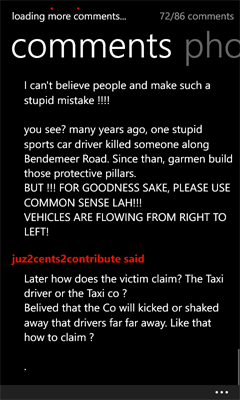 Settings

Version 1.4 (24th May 2012)
minor UI changes
live tile enabled
paginate photos to prevent crashing
pinch or double tap to zoom photos
Version 1.3 (13th Oct 2011)
Bug fixes due to STOMP website changes
Version 1.2 (17th Sep 2011)
Only for Mango devices
major UI changes
fixed issues where some images are not displayed
pin news article or category to start
easily share news article on facebook
performance improvements
Version 1.1 (13th Jan 2011)
fix bug where images do not show up properly
minor changes in UI
added some page transition
you can view photo caption if available
save photos to your Photo Hub
Version 1.0 (11th November 2011)