Lots of new settings for Mango. Its quite a huge improvement to me, and it looks like Microsoft has been listening to users' feedback. I sure hope they finalize Mango and release the production version soon. In case you are curious what phone I'm running Mango on, take a look below

Contrary to what a lot of folks may say, you can indeed upgrade the LG Panther to Mango. Its a great device and I really like the keyboard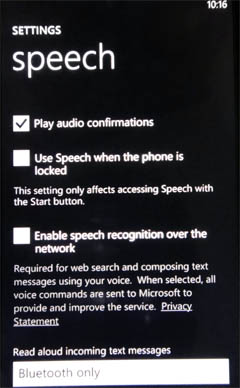 In the speech settings, you can set the phone to read out your incoming SMS. The cool thing about this is that you can actually reply back the SMS by talking to the phone. How about that for a total handsfree operation. It also looks like Microsoft is getting its Web Marketplace ready.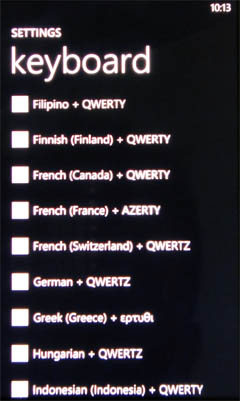 You can have multiple language now, instead of just English, and you can also change the keyboard settings.
The camera shutter sound can now finally be shut off. There is also settings for battery savings, since it can use up more battery with apps running in the background.